Hello!
I have decided to send some screenshots from my second campaign, version is 1.03a. Scenario's start date is Early September, 1756 (longest one) but i am in Late July, 1759 at the moment. First, AI settings:
In my opinion 1.03a is much more challenging than 1.02, mostly because a more careful Austria and a better organized Sweden. So i strongly recommend you to start a new game in this patch as Prussia, if you haven't already. Let me show you the current situation:
In South, Prague is besieged by a 90000 army of Austria, Heinrich is inside with 24000 men. Frederick himself has 31000 men under his command, on the way to save Prague and more importantly, his brother Heinrich. Schwerin has 17000 men, but when he recovers completely, he is gonna have 22000. This my safest front.
Unlike my first campaign, i abandoned Königsberg when von Lehwaldt had retired. Russians have started to invade my mainland, they captured Kolberg. I tried to save the city with Keith, who is the commander of North, but failed. Russian army has 100000, with full recovery 120000 men, and my North army has 58000, full recovery 65000 men. This is my most difficult front, i can't send reinforcements to Keith in near future. I hope he can survive Russian onslaught till winter.
In West, i am suffering from an organization failure. Ferdinand is still two star general, so i can't make him the general of West, and i don't want to let Cumberland manage my armies in battles. That's why he is away from battlefield, and problem is that i can't make synchronized attacks. Kassel is hopeless, i will try to hold Lipstadt and Munster as long as possible. Numbers of both sides are nearly equal here i guess.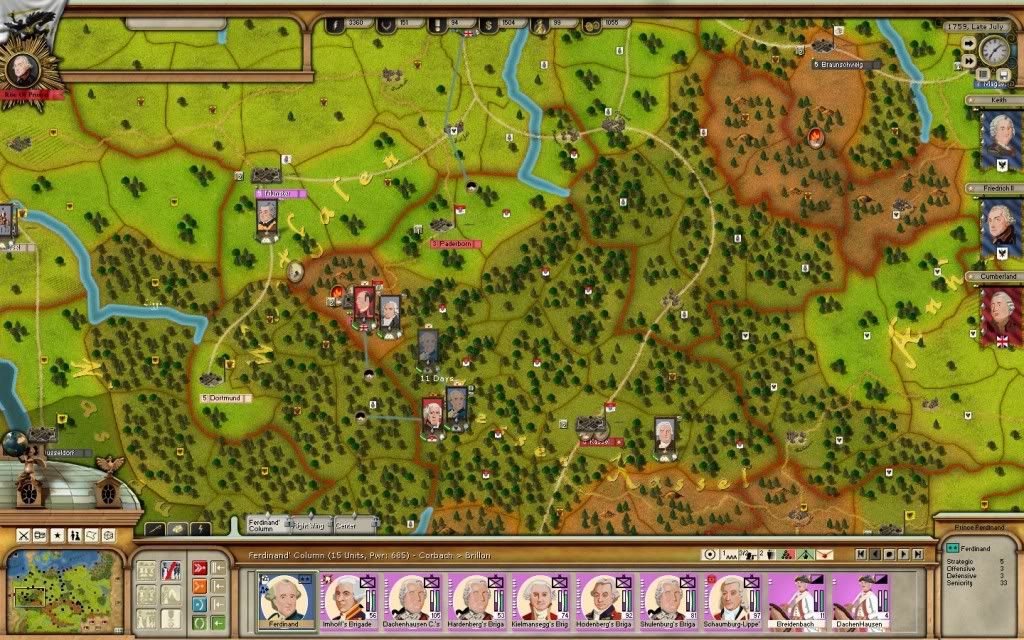 Further information:
Fortunately, Coalition has a much lower NM than i have, and also i have a nice amount of VPs. But Russians do frighten me, i have to make sure they don't merge their armies with Austria's. If they make combined operations i am done i guess. Also please tell me how can i make Friedrich and Heinrich fight at the same time in Prague when one of them inside of city and the other one coming from outside. I will make quick updates, i am a slave of this great game nowadays. Thanks for reading