Hi and welcome to the 5th developer diary for Empires, our upcoming grand strategy game set in the Ancient Era.
Governments come and go, but nations stay. Well not always, these too can disappear in Empires, although we will only brush lightly on this subject today, as it will be the topic on our 6th diary when we turn our attention to culture and decadence!
Still, governments in Empires are a fundamental part of how your nation operates. They are sorted in 3 levels, that we call 'Civilization Levels'. Within each level, 5 possible governments exist. At the very bottom in development, your nation can be a tribal horde or a tyranny. Perhaps a sect even! Then as you progress, your nation can transform, for example, into a Republic, a City-State. Finally, upon reaching the last level of civilization, you can become an Empire or a Federation!
And all this is not just cosmetic, as you can guess. Each government has specific traits also called modifiers, and there are dozens possible. A City-State might have a bonus in commerce, while a Monarchy allows more experienced troops to be trained in your barracks. Combining these traits with other possible modifiers derived from your ruler (or political party for Republican Rome and Carthage), so that each state ends with a very diverse profile, and these can work together or, on the contrary, can help to offset a specific penalty.
This means that most of the time you'll see that a clear identity is created for a nation, through its government, its ruler and its national modifiers. For example, Carthage is a merchant oligarchy and has some good bonuses for trading and commerce. On the other hand, it has great difficulties in levying en masse its citizenry, so it will have to rely on mercenaries to compensate for this lack of manpower. But Carthage being Carthage, the national treasury should be sufficient to recruit quite a lot!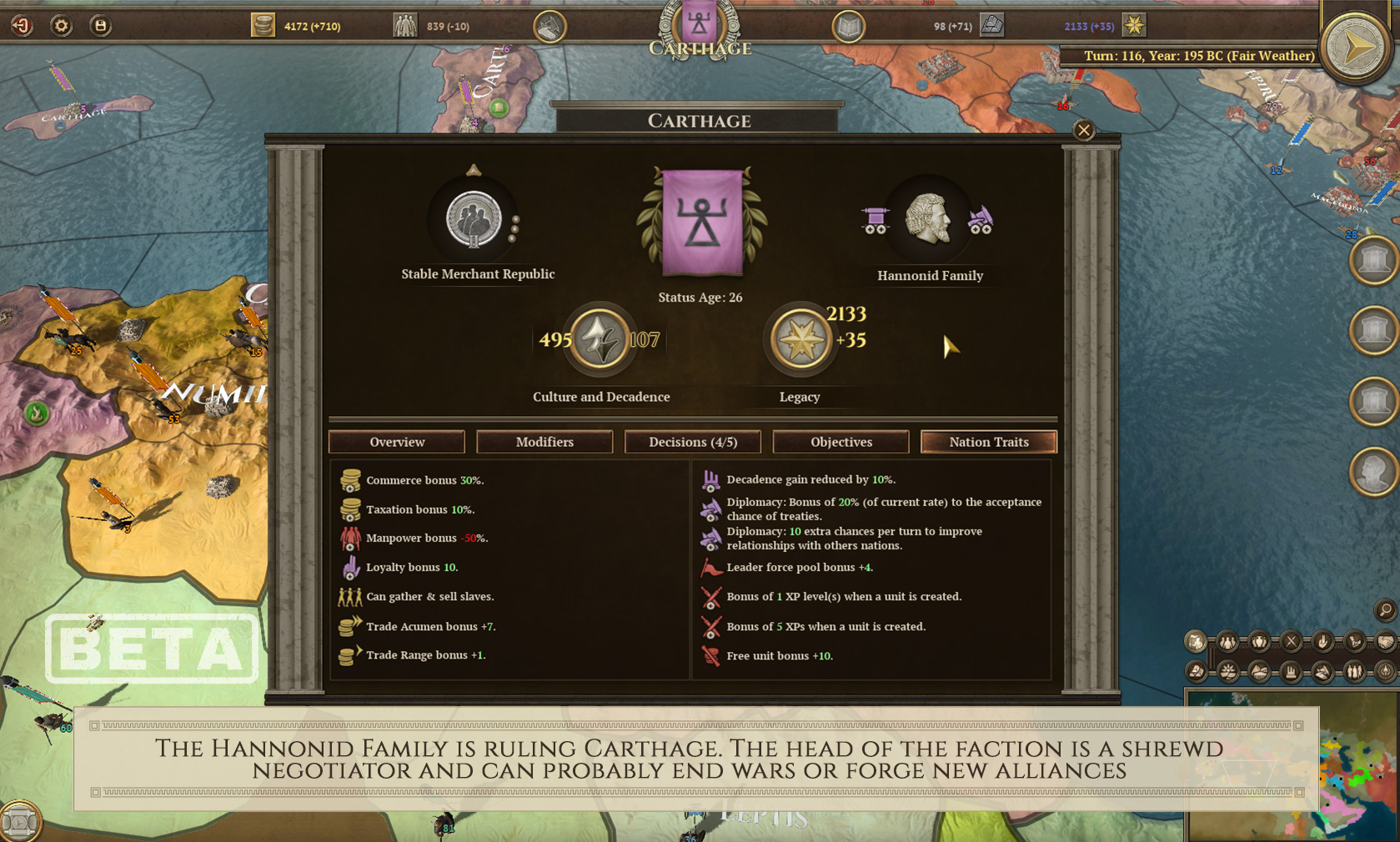 Then there is your ruler. He too comes with modifiers related to his profile. Here again, there is a wealth of possibilities and rulers are generated randomly for near infinite combinations. Rest assured though, there is a sound logic applied when a ruler is generated, and mutually antagonistic traits won't appear. You can then end up with a good administrator which is also a reformer (if you are lucky). But on the other side of the coin, should you be unlucky, a depraved and cowardly king is always a possibility! This will in turn greatly influence what you'll do with your nation. For example, some rulers will allow easier conquest, either through giving a bonus to your military or how well they can administer the new conquered, unruly, regions. But some will cripple and syphon away your money or will negotiate so badly that a war might erupt from their blunders (try coming at the negotiation table and insulting a tyrant, see how it goes!).
Another important strand in this multi-layered approach to your nation profile is your government status, which is strongly tied to progress and decadence. Over time, your government will have a change of status and might become stable, old, decadent even? This, in turn, will influence how you can play your nation and can even influence when and how your ruler dies! Perhaps you'll then wish 'good riddance' to the old fool who was ruling your nation if he decides now is a good time to wrestle a bear in an arena!
Next week, you'll see how governments mesh together with culture and decadence to create the sense of 'rise and decline' for your nation. Stay tuned!