One minor and one not so minor bug
First, for the minor one. There appears to be a 'canal' between Bowling Green, KY and Clarksville, TN allowing ships to travel between the regions in one day. I tested whether the plotted move will actually happen, and it does. Not a big deal though because I trust players not to exploit this (although it is a tempting way to sneak around Ft. Donelson to Nashville...) .
6. Fleet is moving from Bowling Green to Clarksville in 2 days. The other line is a fleet I sent moving in the opposite direction, just to check that it works both ways, although I realise that seems to have made the image messier.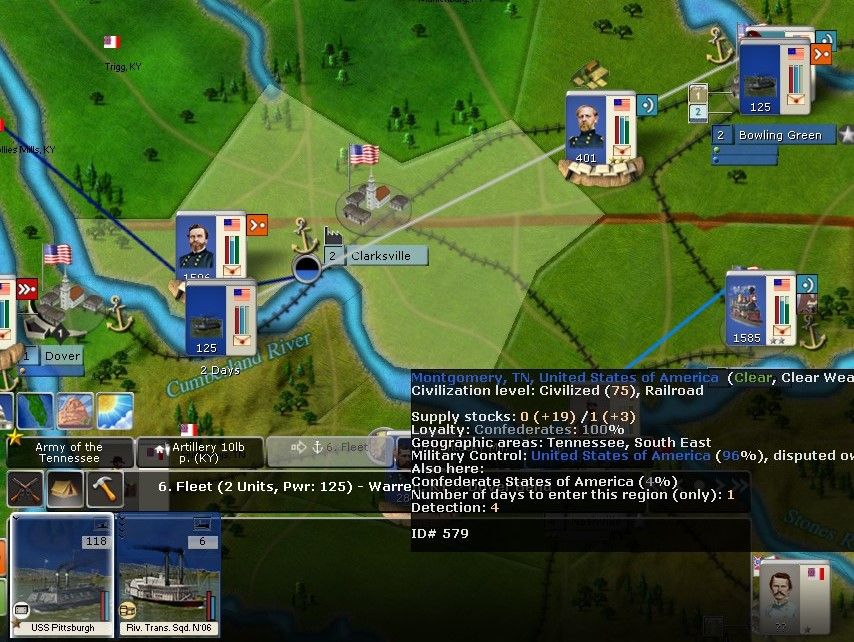 As for the second bug, Canby has been consulting his Almanac and he is dismayed to find a prediction of harsh weather in the far west for the next 5 years. In the regions of SE California, Western Arizona, Eastern Arizona, West Soccoro, West Sierra, and Luna the weather has never been clear for me since the last upgrade. Instead of clear weather, I get e.g. (Desert, Clear Weather, Harsh Weather). I will post a screenshot when the weather turns to this again (it is currently mud, and this bug doesn't seem to show up with the mud). I've had this bug across two different 1861 starts I've done and in the Sibley mini scenario.