[CENTER]
[/CENTER]


What is it?
This mod aims at making the game visually more appealing, by greatly enhancing the details and overall historical accuracy of the unit graphics for the French and Indian War scenarii. It includes new graphics for all three European powers: France, Great Britain and Spain.
Historically accurate you said?
All new models have been carefully researched, using various sources such as the
Seven Years War Project
, the contemporary
paintings of David Morier
, and Osprey books.
How to install?
1 - Download the .zip file attached at the end of this post.
2 - Extract the archive on your Hard Drive
3 - From there, you have two choices:
- either copy / paste the
WIA
folder from your newly extracted archive into your
Wars in America
game main folder. Remember to
backup your original files
before, as they will be overwritten in the process.
- or download
JoneSoft Generic Mod Enabler
, a program that will allow you to install / uninstall mods at will without damaging the original game files.
Reminder!
Although there is no restriction to use it,
the pack will install accurate units for the French and Indian War era only
. If you want to play other scenarii, such as the American War of Independence or the earlier ones, the units displayed will still be those of the French and Indian War pack. This is due to a game engine restriction that reuses the same model for several different scenarii and units.
Therefore, the new units only replace the generic ones already in the game. For example, the new Highlander unit wears the uniform of the 42nd Regiment of Foot, but will be used for all Highlander units (72nd, 78th, etc.). The colonial American unit wears the uniform of Washington's Virginia regiment, but will be used for all other colonial units ("Jersey Blues", "Shirley's" and "Peperrell's", etc.).
Please ask any question and do not hesitate to share comments as well as criticism.
Thank you for stopping by, and happy gaming!

The armies
[CENTER]


[/CENTER]
[CENTER]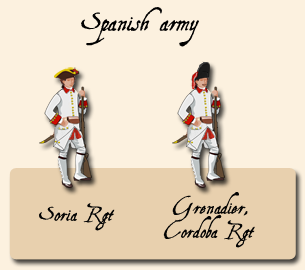 [/CENTER]