Having never done an AAR before, and having never experienced the pure joy (at least that's the word on the street) of having the Europeans join the War of Northern Aggression on the side of the beleaguered South (that would be me), I'm considering posting an AAR of my PBEM match against Leibstandarte.
This is an interesting game in that Leibstandarte is doing quite well as the Yankee aggressors. He had some bad luck on the FI rolls, and I have had consistently good luck.
I will post more information about our game as it progresses, but I thought I would test out how to create one of these things by sharing with folks what you get to see when FI fires.
By late July 1863 I had another good result with the cotton embargo and FI hit 100 but nothing else happened (FI wise that is). Next turn FI still at 100 (I later learned that once it hits 100 it stays there, both + or -). By the late August turn I received this happy news.

I don't include a screen shot but the French also provide +5 WS, $50,000 and the CSA gets an additional +1 NM. THANK YOU "OLD EUROPE!" Where would you like that cotton delivered?
(Thank you your Majesty for showing me that I must not check the local references box!)
So I next take a look at the political report and see that the Union seemed to have gotten a jingoistic morale boost.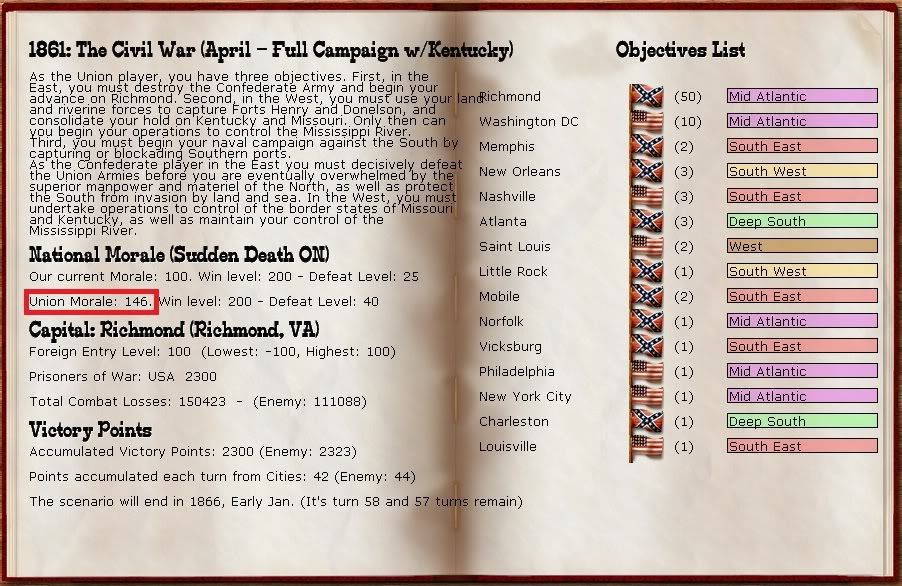 That's okay, because I get lots of new troops, guns, and ships rallying to our cause. And they come with lots of replacement parts...
And some competent leaders...(I put red boxes around some of the better ones). Is that sir, or suh?
Though I suspect they will count against my meager division cap which I know can be modded but my partner and I did not agree upon that at the start of our game so there you go.
The French manage to scrape together healthy naval forces in the West Indies.