Part I: Introduction
Quintus Sertorius was one of the leaders of the Populares during the war between them and the Optimates, in the aftermath of the First Mithridatic War. After the collapse of the Populares cause, Sertorius got himself a command in Hispania, one which was never acknowledged as such by the Optimates. Apart from a military campaign in North Africa, Sertorius would remain in Hispania in the years that followed, slowly gaining influence with the local tribes until he finally was accepted as their leader. Sertorius set out to turn Hispania into a second Rome, a republic build upon Roman principles and culture, upon the Roman immigrants, but also on the support and military prowess of the Iberian, Lusitanian and Celtic tribes that were to be found in Hispania. After all, if the Barcids had turned Hispania in their private empire - and a powerful at that! - why couldn't a resourceful and determined Roman do the same.
The year is 72 BC, Sertorius has been in power for several years and the Roman Republic is in trouble. It has not only to deal with a rogue Roman in Hispania, Mithridates, king of Pontus, might very soon declare war once more, and in the south, the slaves appear restless. Still, there is hope, for although Sulla is death, Pompeius Magnus seems to be his equal and is a staunch supporter of the rightful order and of the Senate. Perhaps it is time Pompeius went to Hispania to restore order...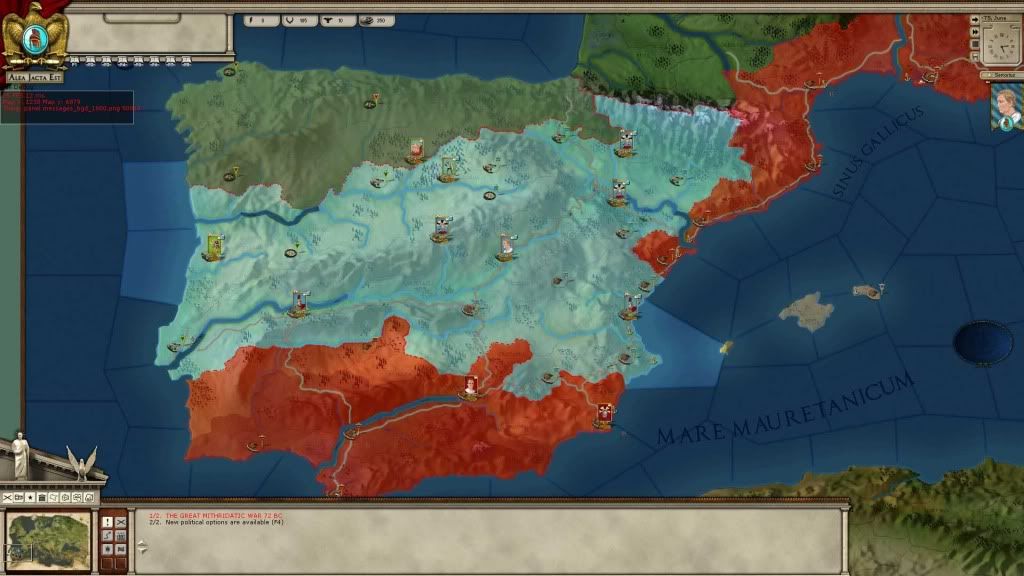 Blue is the territory under control of Sertorius. Note that the Roman still cling on to the south of the peninsula.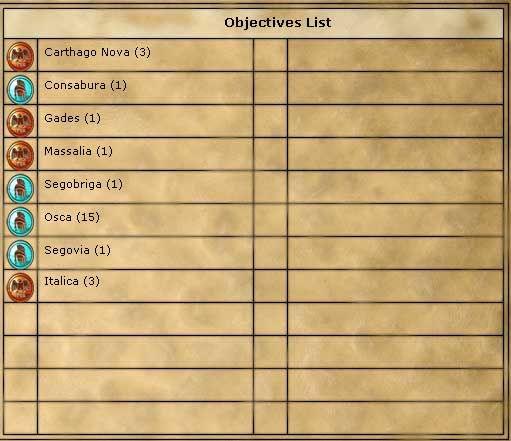 The objectives are clear: take control of all important cities in Hispania, and Massilia. That should break the Roman will to resist Serorius of either forming his own state or of either granting him and the other proscibed mercy.
As the forces we have at our disposal to accomplish this: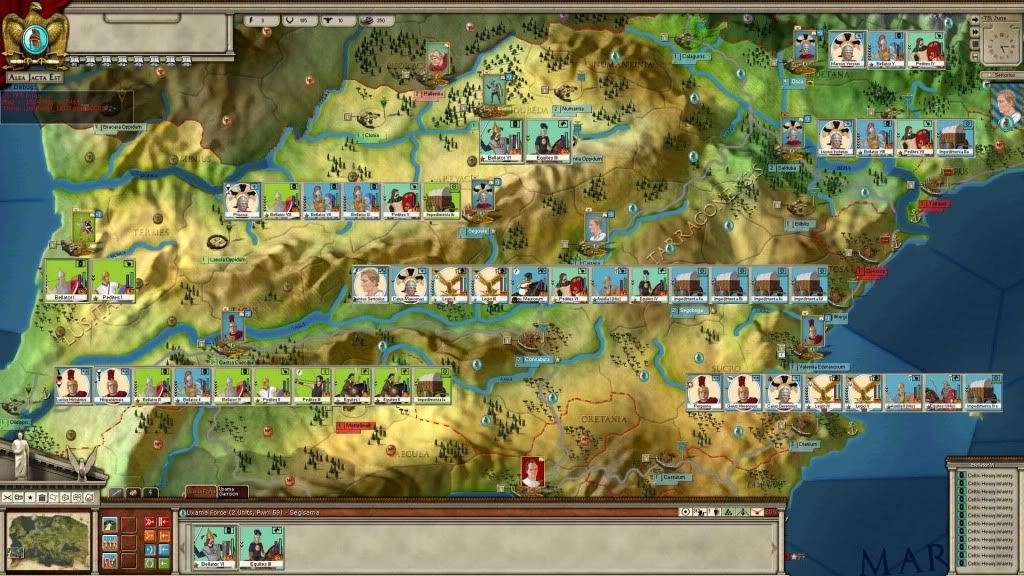 The Sertorian forces are a mix of local tribal units and some Roman legions. Sertorius himself has two legions at his disposal, while Perrenna, another outlaw that has been forced by his soldiers to join Sertorius, has another two. Hirtuleius and Hispaniensis command a sizeable force of local forces. They will come in play later on. As for now, the main target is Metellus Pius, appointed by the Senate as proconsul. With more Romans on the march in our direction, it is imperative to take him and his legions out as soon as possible. Sertorius therefore will march south to Oretania, while Perpenna will march on Carthago Nova and then join Sertorius.